Implant Restoration in Windsor, CT
Implants are the single best treatment provided by Dr. Garceau for replacing missing teeth. Even denture-wearers can benefit from implants that stabilize their bite! Dr. Garceau has been restoring dental implants for more than 20 years, returning many patients to a state of ideal health, function, and aesthetics.
Implants are titanium screws that replace the roots of missing teeth. The implant restoration is the portion of the implant above the gum line. Unlike bridges, which may need to be replaced when teeth decay, or dentures, which are removable plastic teeth, implants allow for natural-looking and functioning teeth that remain in place 24/7.
Implants are versatile. If you are only missing one tooth, one implant plus one replacement tooth will do the trick. If you are missing several teeth in a row, a few strategically placed implants can support a permanent bridge (a set of replacement teeth). Similarly, if you have lost all of your teeth, a full bridge or full denture can be permanently fixed in your mouth with a strategic number of implants.
The dental implant itself is only a replacement for the root of the lost tooth, so after the implant has been placed, you'll still need to get a restoration, or replacement tooth, at our Windsor, CT dental office.
To make the new tooth or teeth, Dr. Garceau will make an impression of your existing teeth, creating a model of your bite. The new restoration, most typically a crown, will be based on this model so it will blend in perfectly with the rest of your teeth. The crown is then attached to the connector point (abutment) on your implant.
Advantages Over Dentures or Bridges
Stability: Conventional bridges and dentures are not fixed to the bone, and can therefore be unstable. This can make it difficult to eat or smile with confidence. Implants not only look more natural, but feel and act more like normal teeth, with a stronger biting force.
Health: Since implants don't directly rely on neighboring teeth for support, they don't compromise the health of your natural teeth.
Long-lasting results: Bridges are only expected to last seven to ten years, even less with root canals, whereas implants will typically last a lifetime.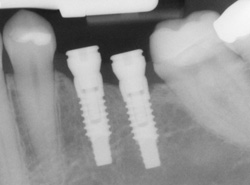 Post-Treatment Care
Consider your replacement teeth to be the same as natural teeth. They require the same daily brushing and flossing, and the same amount of regular checkups at our Windsor, CT dental office. Just like your natural teeth, the better you take care of your replacements, the longer they will last.
Implant Services

Our implant services include:​
Implant Maintenance: Once your dental implant restoration is completed, it is important to keep the area clean and infection-free. Dental implants can accumulate plaque and tartar just as teeth can. Whether you have just one tooth replaced by an implant or several, a professional cleaning schedule will be necessary to keep your implants healthy. The time interval for these professional cleanings will be determined by your individual needs.