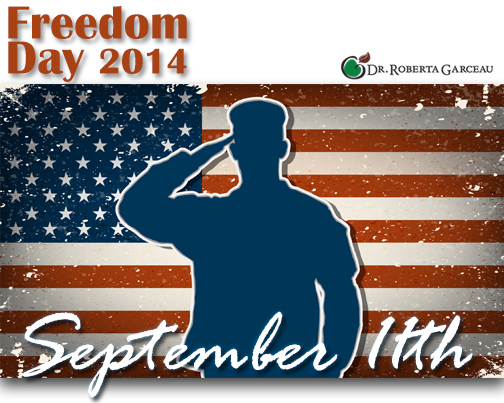 For our second year we are excited to be a participant of Freedom Day, which will be held on September 11, 2014! Freedom Day's vision is to give American Military and their immediate family members, along with Veterans, a " DAY OF FREE". We are a part of hosting America's largest thank you movement in order to show our appreciation to those who provide our freedom, and recognize the sacrifices' they and their loved ones made in order for  us to be and remain FREE....
Last year, we were blessed with an incredible showing of gratitude and were able to greatly improve the lives of many Active Military members, Veterans, and their families by providing exceptional dental and oral healthcare procedures. As soon as the event passed, Dr. Roberta Garceau and our team were eagerly looking forward to the following year, and we are so very excited that September 11th is almost here!
Here is a wonderful testimonial from a patient who visited us on Freedom Day last year,
"My visit to Dr. Garceau this morning was literally the best dentist visit I have ever had. I visited them as part of Freedom Day for free dental care for veterans. I had never been there and didn't know what to expect but I was seriously WOWED. The staff was so friendly and welcoming I felt like I had known them for years. But, most importantly, they were very attentive and sympathetic to my sensitivity to pain. I was comfortable, happy & touched because of their participation in this fantastic program for veterans. Lord knows dental work isn't cheap and this office saved me, an 8 year veteran of the USAF, over $1700 of dental work. If you are on the fence about coming here then the charity of this office alone should persuade you to give them a shot. I wasn't disappointed and I bet you won't be either."
Leave a Reply