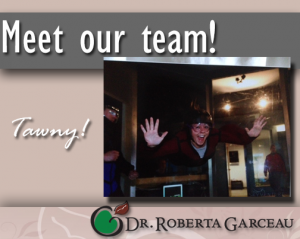 As one of our extraordinary Dental Hygienists, Tawny loves educating patients about their overall health oral hygiene needs and helping them maintain excellent oral health care for the last four years. During cleanings, she reviews patients' dental X-rays, periodontal status, and brushing and goes over the most effective flossing and brushing techniques while answering any other questions they may have. And of course, she loves catching up with our patients and what they have been up to for the past few months between visits!
Her favorite thing about Dr. Garceau's practice is the technology we have. These technologies make visits much easier for patients, whether it be taking digital radiographs that are quicker and have much less radiation than the traditional x-rays, not needing local anesthesia for a filling, or even not needing a goopy mold for a crown. She's always looking forward to taking more continuing education courses! Tawny loves working at an office that thrives on learning new things! The next course she is looking forward to taking is one on sleep apnea, which has been an important treatment focus for our office over the last few years.
Outside of the office, she can never spend enough time with her family and her dogs. She always knows that she can get a good laugh whenever she is together with them! She has been married for a little over a year now and loves every minute of it! Tawny and her husband love waking their dogs and riding their bikes on the rail trail, and in the winter, they love going snowboarding as much as they can!
Leave a Reply