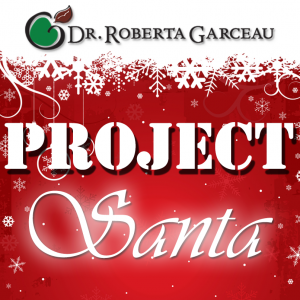 We are thrilled that the month of December is finally here! The holiday season is such a special time for all of us here in Dr. Garceau's office, and we know you all are looking forward to the festivities as well!
There is always a buzz of excitement around the office and around the Windsor area when the holiday season arrives, but there are many families who are unable to share in our collected excitement. For these families, unfortunate circumstances have left them in need over the holiday season. The joy of opening presents on the day of Christmas is something that not everyone gets to share.
For Dr. Garceau and our team, we've made it an important part of our office to find ways to help those in need in our community. So, each holiday season, we embrace Dr. Garceau's "Project Santa" outreach and adopt a family who has fallen upon unfortunate circumstances and is in need. Together, we compile a list of items that are helpful, useful, and desired for our adopted family and then we each contribute these items to be given.  We even provide gift bags and wrapping paper for the parents in our adopted family so that they can take pleasure in wrapping their children's' gifts.
One part of Project Santa is very important for Dr. Garceau and the team: we make our donation as anonymous as possible.  The names of donors are never revealed to the adopted family, and the family's last name is never revealed to us. In this, we make sure Project Santa embodies the full and true feeling of holiday spirit!
This year, we encourage you to find ways to brighten the lives around you and make the holidays a very special time for those you love as well as those whom you may not even know!
Happy holidays, everyone!
Leave a Reply